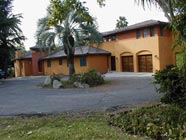 Architect: Richard Best
Scope of Work: Full remodel of the existing structure adding the garage with a master suite above, the living room and entry, and pushing out the back of the house at various locations.
Details and description: This original Los Feliz home was transformed from its old bungalow style into a one-of-a-kind art piece. After the extensive hillside foundation was completed with caissons, grade beams and massive block walls, the real transformation began. From the custom steel windows and usage of many unique materials including custom cut and finished stone tiles, reclaimed oak barn-wood flooring, and quarter-sawn oak for the front doors and jambs, it soon became obvious that the entire house was going to be very different. Two islands in the kitchen with shaker style cabinets work amazingly well with the new stainless steel appliances. A new masonry fireplace in the living room and one in the master bedroom makes four total for the house. Precast concrete steps and a newly stained original concrete floor downstairs are all connected by very unique pale-colored pavers. The exterior can only be explained through the photographs. This house is one of our most creative projects, It took the dedicated and unselfish efforts of all of the people in our company to complete. This project is one of which we are all very proud for many reasons.